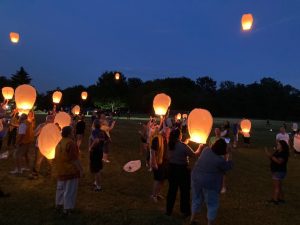 Muskego Lions Club – Holly's Hope – A Journey to Brightness
By Lion Jenny Reidy
Drug addiction and overdose deaths affect everyone; family, friends and neighbors.  A lot of people are still in denial.  By saying "My child is on the honor roll, involved in sports, involved in their church and community" does not mean you are immune to this epidemic.  I said those same words.  I am Lion Jenny Reidy, 11 years ago I lost my daughter, Holly, from a drug overdose.  Since the loss of Holly, my goal has been to wake people up – parents and children, HOW DO YOU SAVE ONE LIFE? How do you have a community come together for a drug awareness program? YOU create an event that is about THEM, I said, YOU!  We're here to celebrate you!  Life, Love and Memories!
We started our event with Lions Ed and Kirsten Hastings who put together a memory board.  On small cards people could write and attach thoughts, memories and prayers.  It will be added to in the following years.  Lion Debbie Jacobus and my daughter, Crystal Giles, set up lighting in the middle of the park, while Lion Ann Wissing arranged a table with drug pamphlets and flyers.  I opened the event welcoming everyone and briefly told everyone Holly's story.  I was followed by Pastor Peter Panitzke from St. Paul's Lutheran Church who began the evening with a prayer and his own personal reflections with Holly.  Officer Shawn Diedrich, our community K9 officer, and his K9 partner, Sirius, talked to the audience about drugs in Muskego and recent events that affect our communities.  The Muskego Police Department has always been a supportive partner of the Muskego Lions Club and Holly's Hope.  In between our guest speakers we had a 2 piece band, Andrew Lynch and Michael Sean, who entertained us with great music.  At 9:00pm Shelly Kingan led our group of people to the middle of the park and showed them how to open and light their lanterns.  Everyone was in awe as the night air was filled with these beautiful lit lanterns against the night sky.  
It was a beautiful and exciting event.  This was our "Journey to Brightness." As we continue drug awareness, celebrate, honor and reflect on the smiles, love and memories, we look forward to 2022, and our 2nd annual celebration.