The 43rd Annual District 27-A1 Convention
United in Kindness and Diversity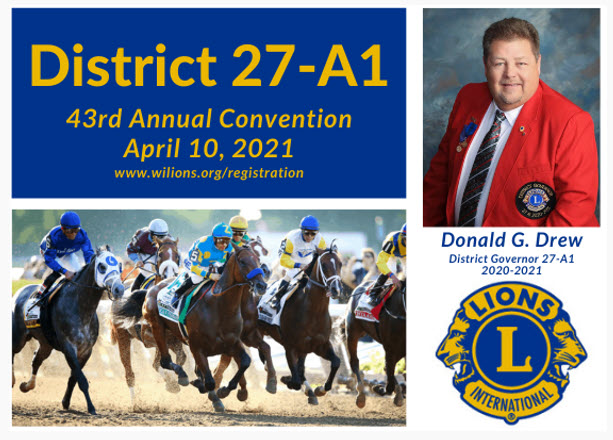 Locally and globally, we serve where we are needed.  When caring people join together, roll up their sleeves and take action to make their community better, it's a beautiful thing—and an incredible feeling for everyone involved. That's Lions. Being a Lion is about leading by example, building relationships and improving the world through kindness. It's 1.4 million caring men and women serving together so they can make a lasting impact and change more lives.
The event will go on!  April 10, 2021 at the Oak Creek Community Center.
Register to attend the 2021 District 27-A1 Convention at https://forms.gle/DbbnMkvdM73LBgRM6
For questions about registration email register@wilions.org
2020 was a challenging year for our Lions organization.  Cancellations, postponements and reschedules have affected our fundraisers, meetings and events.  Covid-19 has changed us but not defeated us.  We are going to have our District Convention with some necessary changes.
We are excited to be able to present this necessary event.  Our programs and elections are a vital part of a successful district.  Your participation is essential to keeping our district the leader it has become in Wisconsin- "WE ARE A-1".  We have planned a safe, interesting and exciting one day event.  Make sure you take advantage of this special event and all it has to offer.  Covid-19 has changed our plans but do not let it defeat our cause.  Please know we are taking precautions and following CDC guidelines to provide a safe event.
The Oak Creek Community Center will host our District 27-A1 Convention.
The Oak Creek Community Center is an independent, self-funded non-profit community center that serves as a public gathering place for individuals, families and organizations.  Features of The Center include:  Free on-site parking for over 150 cars, fully handicap accessible, WiFi Accessibility and more. https://occenter.com/
April 10, 2021 – Doors Open at 8:15am, 9:00 am Call to Order.
Click here for the agenda
This year's event kicks off with a complimentary continental breakfast and beverages hosted by our District Candidates and Event Sponsors and rolls into a full agenda including seminars, raffles, business meeting, necrology, parade of checks and so much more. Lunch will include a variety of Italian and Mexican food options and we will round out the evening with variety of Hor d'oeuvres, cash bar and our favorite DJ!
Service in Memoriam – We will recognize members who have passed away between January 1, 2020, and December 31, 2020. Clubs are asked to send in a photo of their deceased member to 27a1convention@gmail.com as soon as possible.
More information, including Convention Schedule and Seminars, will be coming in future emails.
PLEASE SHARE this information with all of your Club members.
For general convention questions please contact Convention Chair PDG Lion Jordan jchadwick@cfswi.com or Convention Co-Chair Lion Darlene tdacres93@gmail.com
Link to District Parade of Check