The 44th Annual District 27-A1 Convention
Kick Starting Lions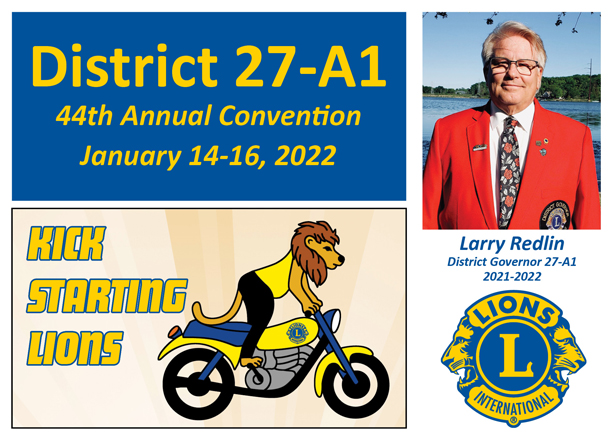 Locally and globally, we serve where we are needed. When caring people join together, roll up their sleeves and take action to make their community better, it's a beautiful thing—and an incredible feeling for everyone involved. That's Lions. Being a Lion is about leading by example, building relationships and improving the world through kindness. It's 1.4 million caring men and women serving together so they can make a lasting impact and change more lives.
The event will be held on January 14th-16th at the Grand Geneva Resort & Spa
Register to attend the 2022 District 27-A1 Convention Online Registration
or print out and mail 
For questions about registration email register@wilions.org
2021 has been a challenging yet exciting year for our Lions organization. More Lions Clubs have had or are planning to have their fund raisers and service projects. Covid has taught us how important we are to each other. It's great to see Lions Clubs leading the way.
We are excited to be able to present the District 27-A1 Convention. Our programs and elections are a vital part of a successful district. Your participation is essential to keep our district the leader it has become in Wisconsin- "WE ARE A-1". We have planned a safe, interesting and exciting two day event. Please plan on attending and take advantage of the Convention and all it has to offer.
The Grand Geneva Resort & Spa located in Lake Geneva has been our host in previous years, so they have the knowledge to ensure that Lions members have a memorable convention experience. Room cost are $129.00 plus tax. To reserve your room at Grand Hotel (click here) or Timber Ridge Lodge & Water Park (click here)
This year's event kicks off with Friday night welcome. This year's theme is Motorcycle "Kick Starting Lions" bring out the leather folks. Lions Clubs please remember to bring your club banners. Meet and greet the candidates for District Governor, 1st. Vice District Governor and 2nd Vice District Governor. Enjoy food and beverages while meeting Lions from 27-A1 and other districts. Dance and enjoy music from our Special Lion DJ.
Saturday enjoy Breakfast followed up with the Business Meeting. Listen as each candidate is endorsed by fellow Lions. Enjoy the specially selected seminar. Enjoy a delicious Lunch, listen as International Director Larry Edwards delivers a special message to all Lions. Watch as the District Duck is once again auctioned off to the highest bidder. Watch as lions from around 27-A1 present their donations to Lions Charities in the Parade Of Checks. Enjoy another seminar and Vote for your Lion Candidate.
Plan on attending the Governors Banquet and enjoy another delicious Supper. Stay for a special evening of fun and excitement, CASINO NIGHT. Have fun on the Las Vegas Style Gaming tables. Play for a chance to win exciting prizes. Dance to our Special Lion DJ.
Service in Memoriam – We will recognize members who have passed away between January 1, 2021, and December 31, 2021. Clubs are asked to send in a photo of their deceased member to 27a1convention@gmail.com as soon as possible.
PLEASE SHARE this information with all of your Club members.
For general convention questions please contact Convention Chair Lion Darlene tdacres93@gmail.com or Convention Co-Chair PDG Lion Jordan jchadwick@cfswi.com
Online Convention Registration
Hotel reservations:
   Grand Hotel
   Timber Ridge Lodge & Water Park
Link to District Parade of Check
Link to District Convention Service Actives