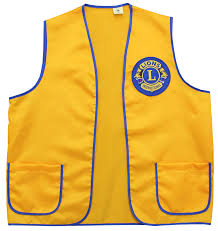 YELLOW VEST POSSE FANS AND FRIENDS
~ grab your vest, pack your bags and head on out with us as we go
Rockin' the Vest from Las Vegas to Milan! 
This year's 41st annual District 27-A1 Convention will be at the Abbey Resort & Spa in Fontana, on Friday, January 18th through Sunday, January 20th.  
We're a world-wide organization with a proud history of service, so we're kicking the weekend off with a Friday international theme night.  You won't need a passport, but do consider dressing the part and sharing your ethnic heritage, or even a country/culture you enjoy.  Where's your favorite: Vegas? Milan? Or, some other City or Country in between?  (YELLOW VESTS are encouraged if you are not dressing with the International theme.)  
District Governor Sharon Eberhardt and Past District Governor Dan, together with International Director Pat Vannett and Lion Kevin, look forward to meeting and speaking with you.
Register to attend:
SUPER EASY online registration! Register online and then choose to pay via credit card or mail in your check.  
Hotel Reservations:
Call 800-709-1323 then press #2, on or before December 17, 2018 and identify yourself as part of Wisconsin State Lions Association, and provide The Abbey with your name, type of room (single/double), check-in and checkout dates.
Room rates:  $124/per night for Single or Double.  Suites are $189/per night.
*Resort fee of $13 is waived during our convention.  The resort fee covers use of 24-hour business center, high speed internet in guest rooms, in room safes, scheduled shuttle service to downtown Lake Geneva, valet parking, weekend campfires and unlimited use of available sports equipment.  Admission to the Avani Spa workout facilities is included, but additional fees are charged for entrance to the spa and treatment facilities.  See below.
Spa Entrance Costs
Admission to the Avani Spa workout facilities is included in the resort services fee of $13.00, but additional fees may be charged for entrance to the spa pool and treatment facilities. 
Guests 16 years and older may enjoy day access to the Avani Spa atrium pool, spa whirlpools, steam rooms, inhalation room and shower facilities is can either purchase $75 or more in spa services or purchase a $25 spa day pass.
Booking Spa Appointments
We strongly recommend that you make your spa reservations several weeks in advance of your desired appointment date, ideally at the time you make your overnight accommodations. Avani has a very high business level, especially on weekends and holidays, and it may be difficult to book services if you wait until you arrive. For guests not registered at The Abbey Resort, a valid credit card will be required to reserve your spa appointment. To schedule your appointment, please call 800-SPA-1000. The spa reservation office is open Sunday-Saturday 6:00am – 11:00pm. All spa services are subject to availability. Prices and service selections are subject to change without notice.